Version 2.0
a year ago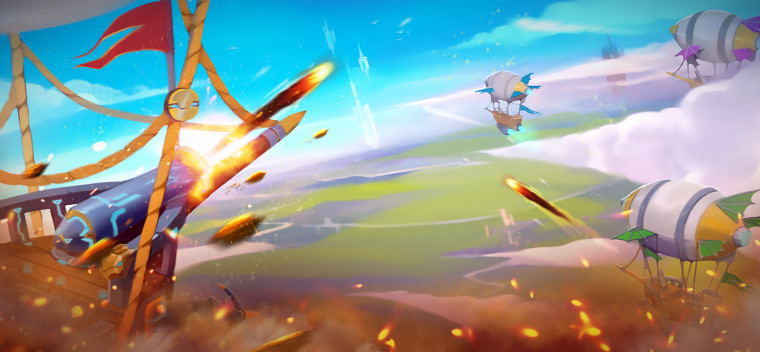 Dear friends!
The long-awaited update is here! Redesigned GUI, in-game clan functionality, 2 brand-new bosses, 20 additional PvP ranks... all of this and more awaits you in the latest version of the game!
Clans
Upon reaching PvP Rank 3, you will be able to join a clan or create your own;
Joining a clan grants access to that clan's chat for easier communication and for sharing Co-Op and PvP battle tips and results;
Test your decks against clanmates in PvP Practice or play Co-Op together. Playing with other members of your clan will yield additional rewards!
After reaching the PvP Rank 4, you will also be able to participate in Clan Battles for a chance to receive legendary units and other valuable loot;
The goblin merchant has opened a whole new counter where you can buy Clan Battle items.
New bosses
Baroness - Immediately reduces the number of stars of half the units on the field by 1, outright destroying affected 1-star units. Can use a dash move during battle.
Ancient - Periodically downgrades all units by 1 level and moves them around the field.
Gameplay adjustments
Killing bosses will no longer yield Skulls. Seasonal rewards will now be available for special stars, which can be obtained for winning PvP battles and completing tasks;
20 new PvP ranks have been added, raising max the rank limit to 40;
The already achieved PvP rank can no longer drop;
In addition to the extra reward column, the Season Pass increases the daily Co-Op Keys limit by 100;
Readjusted Shard and Gold tower prices;
Rebalanced rarity-depended crit boosts. The higher the unit's rarity, the more critical damage it will be able to deal with each upgrade;
Fully revamped seasonal rewards;
Redesigned battle results screens for all modes, making it easier to assess deck performance;
The News and Inbox sections now boast their own dedicated main screen window. Event rewards and developer messages will be delivered via in-game mail, while update news, season announcements, and other such posts will be displayed under the News tab.
New units
Every few seconds increases own damage by 10%.
Each time a new unit appears on any player's field, the cannon begins to only deal crit damage for a set period of time.
When merged - puts all enemies to sleep for a few seconds.
When merged, steals a portion of the enemy's VP. In Co-Op Mode, copies a part of the ally's VP instead.
With every shot, the unit increases its monster damage until the target is completely destroyed. The damage bonus is reset upon switching targets. With 1, 4, 7, or 10 Mechas on the field, the attack speed of all Mechas is doubled and they begin to inflict AOE damage.
Adjacent units gain an extra star. This only works on units of a lower star level and doesn't work on other Hyperbrains.
Unit fixes
Sapper Drone
Mid-battle Sapper Drone upgrades will now affect the mines already present on the battlefield;
The Sapper Drone will now also receive buffs from Enhancer and Obelisk units, but their effects will not be applied to previously placed mines.
Arbalest
Base damage reduced from 90 to 75;
Damage bonus for mid-battle upgrades reduced from 90 to 75.
Since this unit was incredibly strong during all stages of the game, even stronger than some legendary units, we made the decision to nerf its damage output.
Well of Vital Power
Mana generation rate improved from once per 11 seconds to once every 9 seconds.
With these changes, we aim to increase the Well's viability for certain builds.
Charged Particle Emitter
Mid-battle upgrades will now boost the instakill chance by only 0.3% instead of 0.7%.
Previously, this unit was way too good at dealing with normal monsters.
Laser Turret
Base beam damage increase per upgrade reduced from 50 to 30;
Mid-battle upgrade damage increase reduced from 80 to 60.
The damage from this unit's ability was way too high, making it difficult for other units to compete against it.
Rocket Launcher
Base rocket bonus damage reduced from 75 to 60.
The unit's AoE damage was too high, and it was due for a nerf.
Finisher
Base damage increase per upgrade was reduced from 20 to 15;
Mid-battle upgrade damage bonus reduced from 100 to 80.
It was doing a bit too much damage for a unit that had the potential to one-shot enemies.
Enhancer
Damage bonus per upgrade has been increased from 0.2% to 0.4%
Mid-battle upgrade damage bonus raised from 2% to 3%.
The Enhancer is quite good at increasing damage, but apparently not good enough as it was rarely seen on the battlefield. Hopefully, this buff will boost its popularity!
Golem
Wall duration reduced from 3 to 2.5 seconds;
Duration increased per upgrade reduced from 0.5 to 0.3 seconds;
Mid-battle upgrade duration increase reduced from 0.5 to 0.3 seconds;
Wall summoning cooldown increased from 10 to 11 seconds.
The Golem was obviously too overzealous with wall summoning. It can now do it just as effectively as before, only a bit less often!
Cyberworm
Base damage reduced from 300 to 250.
The Cyberworm's damage was way too high for the earlier stages of the game, so it was decided to address this issue.
Command Post
Explosion radius will now vary based on the unit's number of stars.
The unit's growth wasn't properly reflected in its combat capabilities, so now its nuclear blast will become even more powerful as the tower gains stars.
Transmutation Crystal
Unit transformation cooldown increased from 15 to 18 seconds.
Should the stars align, this unit could easier turn the tide of battle. We decided to balance this out with a longer transformation cooldown.
Phosphorus Disintegrator
Base damage reduces from 17 to 15;
Damage bonus for mid-battle upgrades reduced from 30 до 25.
Disintegrator was an incredible weapon that terrified everyone who came into contact with it, so we decided to nerf its damage to make it more fun to fight against.
Xenosarx
Base vitality to damage conversion rate increased from 3% to 4%;
Vitality to damage conversion rate bonus per upgrade increased from 0.2% to 0.3%;
Mid-battle upgrade bonus for vitality to damage conversion rate increased from 0.5% to 0.7%.
The Xenosarx absorbed life force way too slowly. These changes are meant to increase its viability for certain builds and game modes.
Railgun
Damage bonus per upgrade increased from 10 to 20;
Mid-battle upgrade damage bonus raised from 50 to 80;
Base fire rate improved from 1.2 to 0.8 seconds;
Upgrades will now boost the unit's fire rate;
Upgrades will also boost link damage more - from previous 0.4% to 0.5%.
The skillful use of this unit should provide players with more of an advantage. Increasing its stats and damage output should do the trick.
Octopod
Base damage increased from 120 to 160;
Bonus damage per upgrade increased from 15 to 30;
Upgrading the unit will now boost its fire rate;
Target HP-based bonus damage increased from 0.2% to 9%;
Target HP-based damage increase from upgrades raised from 0.2% to 1%;
The fire rate will now be dramatically reduced at fusion level 7;
Added the 100% normal monster instakill effect;
Removed the ricochet effect.
We want to make the Octopod better at handling monsters in the late game, which the changes listed above will, hopefully, achieve.
Misc fixes
A manifold of GUI-related improvements;
Localization error fixes;
Updated General boss model;
Updated Cyborg boss model;
Updated Boreal Academy unit model;
Updated Forge unit model;
Updated Electro Mages attack effects.