Dragon Glory - Game news
Black Friday
2 months ago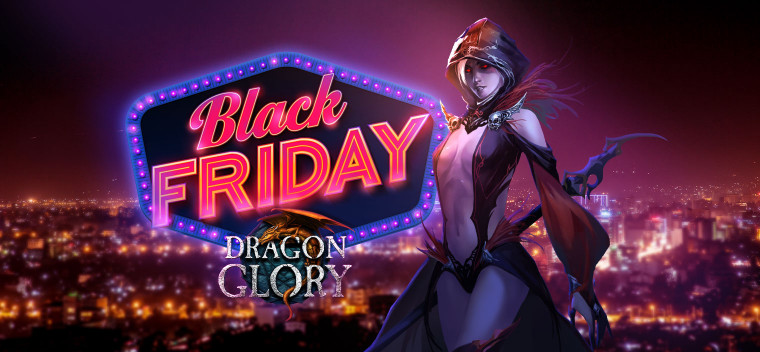 Warm Thanksgiving Day & Black Friday
1. Warm Thanksgiving Day & Black Friday Event begins on November 26, and lasts for 10 days
2. Participate online to get Avatar Fostering Stone, Avatar Skill Book, Sapphire, Coupon and other items
3. Participate in recharge to get Avatar Soul Stone Pack, Avatar Evolution Stone, Avatar Enchanting Stone, Dual-attribute Red Soul, Golden Talent Card, Red Talent Card, Super Experience Soul, Higher Avatar Gear Pack and other items
4. Participate in Lucky Red Envelop to get Red Envelop Quota and Coupon which can be used in the Promotional Shop
5. Participate in Daily Target to get Sapphire, Lv.1 Amber Gift Box, Dragomon Middle EXP Potion, Red Envelop Quota, Naughty Corgi and other items
6.Participate in Lucky Draw to get Dragon God Flying Wing Soul Stone, Small Fire Rock Beast Soul Stone, Tide Kiss Soul Stone, Golden Talent Card and other items
7. Participate in the Leaderboard to get Wings Skill Upgrade Book, Costume Fostering Stone, Lv.1-8 Amber Gift Box, Night Fear Soul Stone and other items
8. Participate in daily consumption and get Red Envelope Quota, Divination Enchanting Stones, Naughty Corgi Soul Stone, Coupons, Light and Dark Soul Stone, the title of Fanatical Black Friday and other items
9. During the event, Mini Butterfly Soul Stone, Tide Kiss Soul Stone, Dual-attribute Red Soul, Flying Gift Pack, Reward Rubies, various Evolution Stones, Enchanting Stones, Gem and other items are available
Cycle Event:
1. Mysterious Treasure begins on November 26, and lasts for 3 days
2. Texas Hold'em and Get Chest Everyday begin on November 29, and last for 4 days
3. Rubies Bonus begins on December 3, and lasts for 4days
4. Lucky Wheel begins on December 7, and lasts for 3 days
Weekend Events:
1. Demon Seal Pattern begins on November 27, and lasts for 2 days
2. Brave Level Up begins on December 4, and lasts for 2 days
Fanatical Black Friday:
Only once a year Black Friday carnival is finally here, this Black Friday store will be opened after the maintenance of November 26, the event lasts 3 days.
During the event, various Enchanting Stones, Evolution Stones, Fostering Stone and Gems are available. Legendary Soul, Golden Talent Card and Red Talent Card will also be supplied within a limited time. In addition, the mysterious Dragon God fashion will be specially sold.
Super low discount, miss and wait another year.