An update came today! Let's check out what's new.

First of all, 4 new talent cards were added!



Goal Shooting
From June 20 to 24 to shoot 10 balls and get rewards!



Dragon Orb Stele
Event duration - 3 days, from June 20 to 23
Get silver and gold dragon coins. Moreover, you will get items to activate Golden Dragon by Adv. Pray, also some lucky ones will get red astro with great stats.




Mystery shop
From June 20 to 22 all lvl 50+ players will be able to enter the Mystery Shop and purchase Mystery Crystals to exchange them for precious items such as talent cards, fashion, dragon parts and other prizes!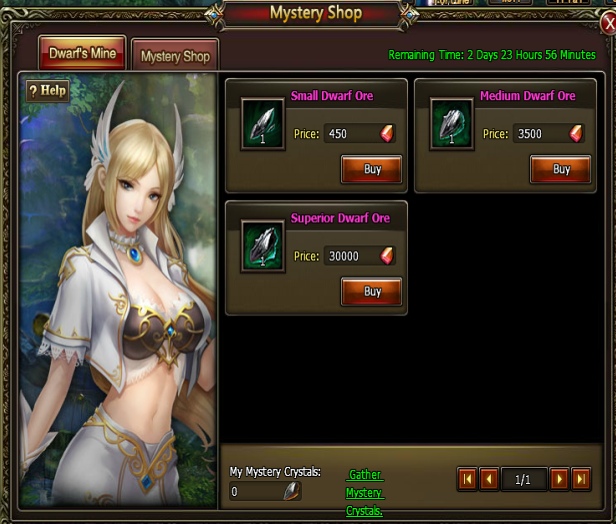 Fishing master
Fishing Master will be available from June 20 to 23. Take part in the event and show everybody that you are a natural-born angler! Fish once, 10 or 50 times and catch awesome rewards including talent cards, fashion sets and red astrals!



Midsummer festival
Recharge and receive extra bonuses from June 21 to 27.



Sweet House
From June 21 to 27 get new pet fashion in the exhange shop!



Challenge road
Choose a road to follow and defeat all evil that stands in your way in the Challenge Road event from June 21 to 27.



Recharge rewards
From June 21 to July 2 recharge to get amazing prizes!



Mount Capsule
From June 23 to 26 you will get an opportunity to test your luck in the Mount Capsule event. Use Mount Lucky coin to open capsules!



Explore the Maze.
Find your path to exquisite items from June 24 to 28.



From June 24 to 26 you will be able to take part in Goddess Card event. Use balens to draw blanks on the left, each level has 20 ordinary and 1 special final draw, the special one can be used after 20 ordinary draws. If you activate one row or column, you will be able to open the chest near them. 40 rounds are available per day. The main reward you can get is talent card fragments.
The event is available to lvl 80+ players.




Gold chest
From June 25 to 28 buy balens and receive Golden Keys to open gold chests with prizes. Every next chest you open will need more keys! For example, to open all 25 chests you need 100 keys.



Shake the Tree
From June 27 to 28 shake the magic tree to get awesome rewards!



Ocean Hunt
Event duration - from June 27 to 30
The event will be available to all lvl 60+ players.
Join the Ocean Hunt for treasures using golden maps and worn-out scrolls!



Royal Brewery.
From June 29 to July 3 show your brewing skills and collect different items!



Pet Wheel
Pet Wheel will be available from July 1 to 3. Spin the wheel to get vital pet progression items!



Hero's Altar
Hero's Altar is back! From July 31st to August 4th attack the boss to earn points and win positions in the cross-server ranking! Spend your Hero Medals in the Medal Shop. The event is available to lvl 60+ players and on severs older than 10 days.



Have fun!
Play Dragon Blood